Grand Junction Dumpster Rental Services That are Affordable and Reliable
Roll-Off Dumpster rentals make getting rid of your waste a breeze. Here are additional benefits to using our Grand Junction dumpster rental services.
Maybe you're remodeling your home? Perhaps you're having a big party on your property? Regardless, you're facing a situation where you must dispose of a great deal of waste.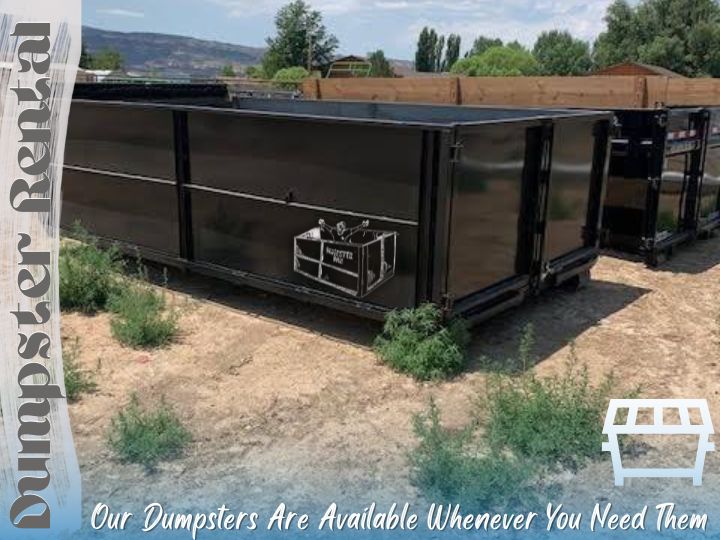 It's situations like these that call for the use of a 17 Yard roll-off dumpster. But that doesn't mean you should buy a dumpster. Instead, you should rent a dumpster. Interested in learning more about Grand Junction dumpster rental services? Read on!
Why Use Our Dumpster Rental Service?
There are all sorts of roll-off rental & dumpster rental services in the Grand Junction area. So, why should you use ours over the others? There is a bevy of reasons, including the following:
We're Affordable
First and foremost, we're affordable. Our prices are competitive with any other dumpster rental company in Grand Junction and are, in fact, lower than many of these companies. So, if you're looking to rent a dumpster affordably, we're the company to turn to.
We're Reliable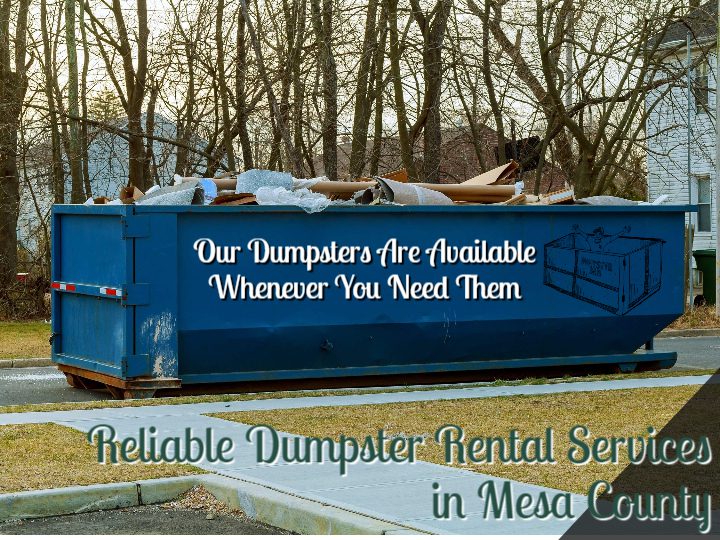 We've been in business since 2018. In our four odd years of existence, we've proven time and time again that we're as reliable as they come. Not only do we show up in a timely manner, but we also ensure that our rental roll-off dumpsters are in excellent condition upon arrival. Communicative and empathetic to our customer's needs, we do everything necessary to ensure a flawless transaction. Call us now to discuss your dumpster rental!
We Offer a Range of Rental Periods
We don't force a weekly or monthly rental period upon you. We offer 3-day rentals, 4-day rentals, weekly rentals, and monthly rentals. This variety of rental periods helps ensure that you pay as little money as possible while also keeping convenience at a maximum.
We're Readily Available
Need a dumpster on short notice? If so, we can accommodate you. Our team is readily available and always prepared to serve your dumpster rental needs.
We have a large supply of dumpsters and are always ready to transport them to a new customer, or construction site. Give us a call now to discuss your dumpster rental needs!
The Benefits of Renting a Dumpster
Many benefits come with renting a roll-off dumpster. Some of these benefits include the following.
A Safe Work Environment
Trash might just seem like trash, and, in many cases, it is. However, when that trash starts spilling out of its given receptacle, it can quickly turn into a tripping hazard or slipping hazard.
By utilizing a 17-yard dumpster, you can combat this problem. How does a roll-off dumpster combat the overflow of trash? By being larger and more open than all other waste receptacles.
Think of a trash can. When subject to consistent disposal, it's bound to be filled up in a matter of minutes. The same goes for smaller Roll-offs and commercial dumpsters.
Dumpster Dan Roll-Off Dumpsters, on the other hand, possess enormous size and volume. Therefore, they can be subjected to trash for days before they're fully filled. As such, they leave very little reason for trash ever to spill out of them.
Want to keep your wedding site, party site, construction site, or work site safe? A dumpster will help you to do so.
Convenient Takeaway
There are two phases when it comes to the disposal of trash: the initial disposal and the final disposal. The initial disposal involves throwing trash into a receptacle (i.e. a wastebasket, trash can, or dumpster). The final disposal involves transporting that trash to a dump.
Now, if you're using a waste receptacle that you've purchased yourself, you will be responsible for transporting its contents to the dump or waiting for your waste management provider. However, if you're using a dumpster rental, you won't have to worry about transporting it at all. Instead, Dumpster Dan will transport it for you.
All you have to do is make a call. Upon doing this, your dumpster rental service company will show up at an agreed-upon time, load your filled dumpster onto a truck, and take it away for you.
Simple Disposal
Another big benefit of dumpsters is that they allow for simple disposal. Unlike with trash cans and wastebaskets, you don't have to drop trash straight down into them. With a dumpster, you can toss trash from several feet away or even higher floors.
For instance, let's say you're tearing the roofing off your house. You're going to have to dispose of those old shingles. What better way to do so than by dropping them down into a large dumpster?
Of course, you could attempt to do this with a trash can. However, due to the small size of the trash can, your disposal success rate is going to be far lower than what it would be with a dumpster. This will result in more cleanup after the project has ended.
Cost Savings
Let's say that, instead of renting a dumpster, you're considering purchasing a dumpster. Just know that, if you do, you're going to end up spending a lot more money than you would on renting one.
Purchasing a dumpster will likely set you back a few thousand dollars. Renting a dumpster, on the other hand, will likely only set you back a few hundred dollars.
So, unless you plan on using that dumpster time and time again over a long period, there's no question: renting is the superior choice.
In Need of Grand Junction Dumpster Rental Services?
Do you need a dumpster for a party, festival, construction project, DIY Landscape project, or otherwise? In need of Grand Junction dumpster rental services? Look no further than Dumpster Dan.
We have several dumpster models to choose from. Regardless of your needs, we'll deliver your dumpster directly to you.
Contact us now to get the ball rolling!