The Importance of Removing Tree Stumps
Benefits of Hiring Professional Stump Grinding Services
Understanding The Stump Grinding Process
Why Choose Dumpster Dan Professional Stump Grinding Services
Additional Services Offered by Dumpster Dan
The Fruita and Grand Junction region boasts breathtaking natural landscapes dotted with lush greenery and towering trees. While trees undoubtedly add beauty and value to any property, they can leave behind unsightly reminders in the form of stumps after removal. Stumps not only detract from the overall aesthetics of your landscape but can also pose potential hazards. Fortunately, the solution lies in Dumpster Dan's professional stump grinding services.
The Importance of Removing Tree Stumps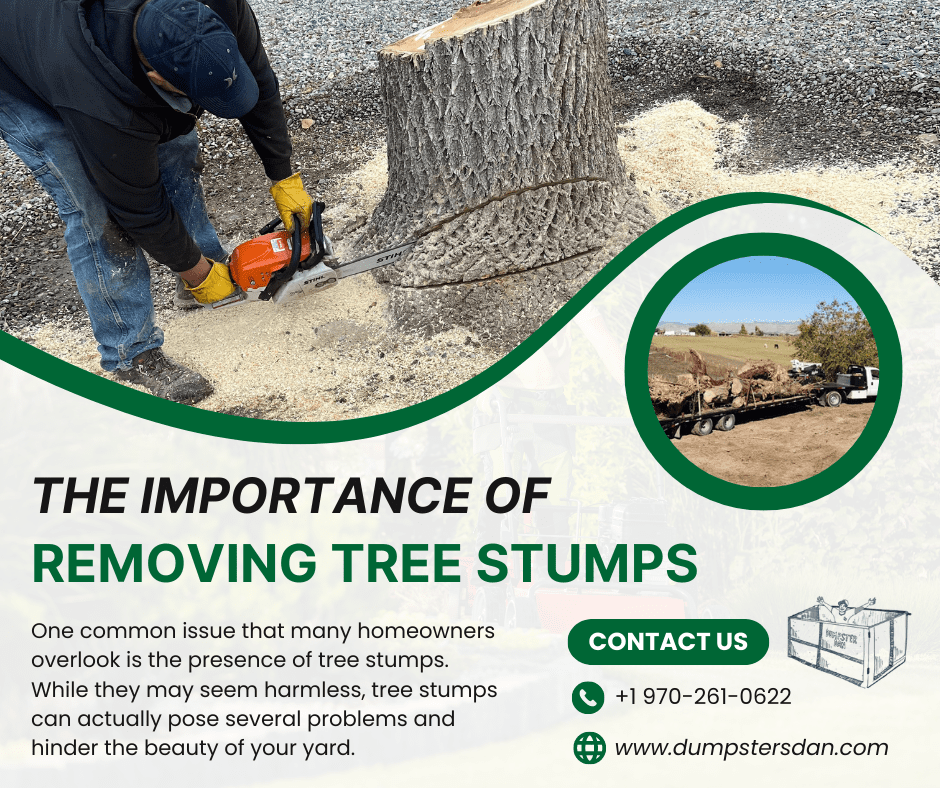 Having a well-maintained outdoor space can significantly enhance the overall appeal and value of your property. However, one common issue that many homeowners overlook is the presence of tree stumps. While they may seem harmless, tree stumps can actually pose several problems and hinder the beauty of your yard.
First and foremost, tree stumps can be a tripping hazard, especially if they are hidden by grass or foliage. This can put you, your family, and your guests at risk of injuries. Additionally, tree stumps can attract pests like termites, ants, and beetles, which can spread to other healthy trees in your yard. Moreover, tree stumps can take up valuable space that could be used for other purposes, such as planting new trees, creating a garden, or installing outdoor structures.
Benefits of Hiring Professional Stump Grinding Services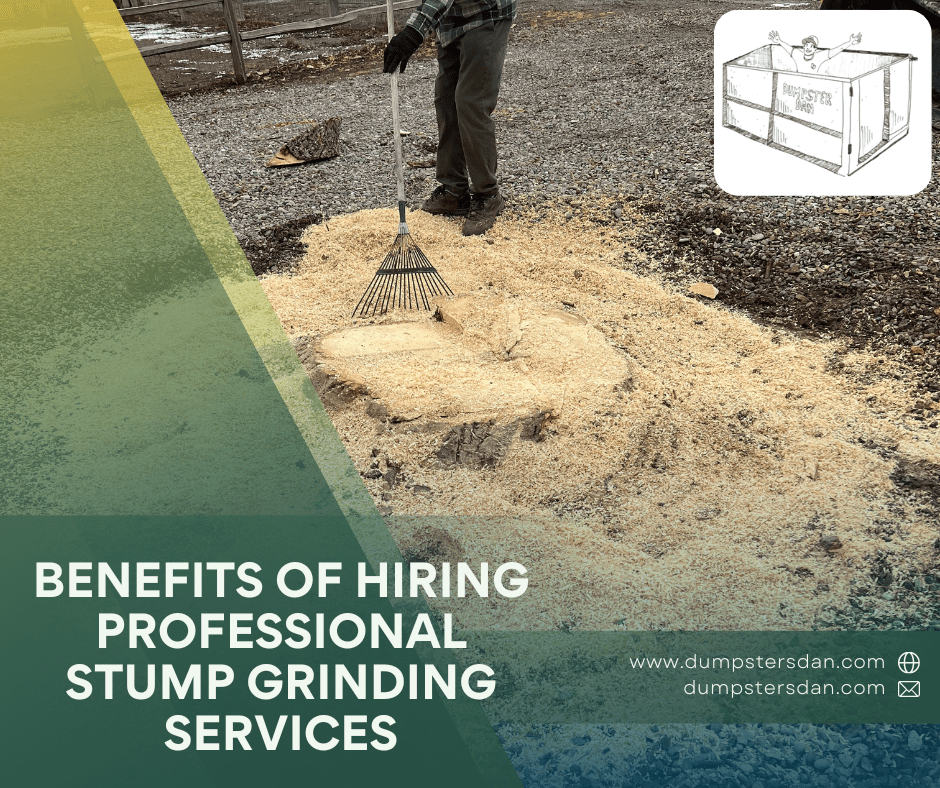 By opting for professional stump grinding services in Fruita and Grand Junction, you can reap a host of benefits. Firstly, stump grinding improves the aesthetics of your landscape by eliminating unsightly stumps, allowing the natural beauty of your surroundings to shine through. Additionally, it frees up valuable space, enabling you to maximize the usability of your yard for various outdoor activities, such as gardening or expanding your living area. Stump grinding also eliminates the risk of accidents and injuries caused by tripping over hidden stumps or damaging lawn equipment while mowing or landscaping. Moreover, the removal of stumps prevents pests and insects from establishing colonies, safeguarding the health of your plants and the overall ecosystem of your garden.
Understanding The Stump Grinding Process
Stump grinding involves specialized machinery to chip away at the stump and its root system. Our professional arborists utilize powerful stump grinders that systematically grind the stump into wood chips. The grinding process continues until the stump is leveled with the ground or as per the client's requirements. Stump grinding not only removes the visible portion of the stump but also targets the roots, ensuring complete eradication. This method is preferable to alternatives like stump removal, which requires digging out the entire stump and can be more time-consuming, labor-intensive, and disruptive to the surrounding landscape.
Here's a breakdown of the differences between Stump Grinding and Stump Removal:
Stump Removal: Stump removal involves extracting the entire stump from the ground, including its roots. This process typically requires heavy equipment, such as an excavator or a backhoe, to dig out the stump and pull it from the soil. Stump removal is a more invasive and time-consuming method compared to stump grinding.
Stump Grinding: Stump grinding, on the other hand, involves the use of a specialized machine called a stump grinder. This machine has a rotating cutting wheel with carbide teeth that grind the stump and its roots into small wood chips. Stump grinding is a faster and less invasive method compared to stump removal.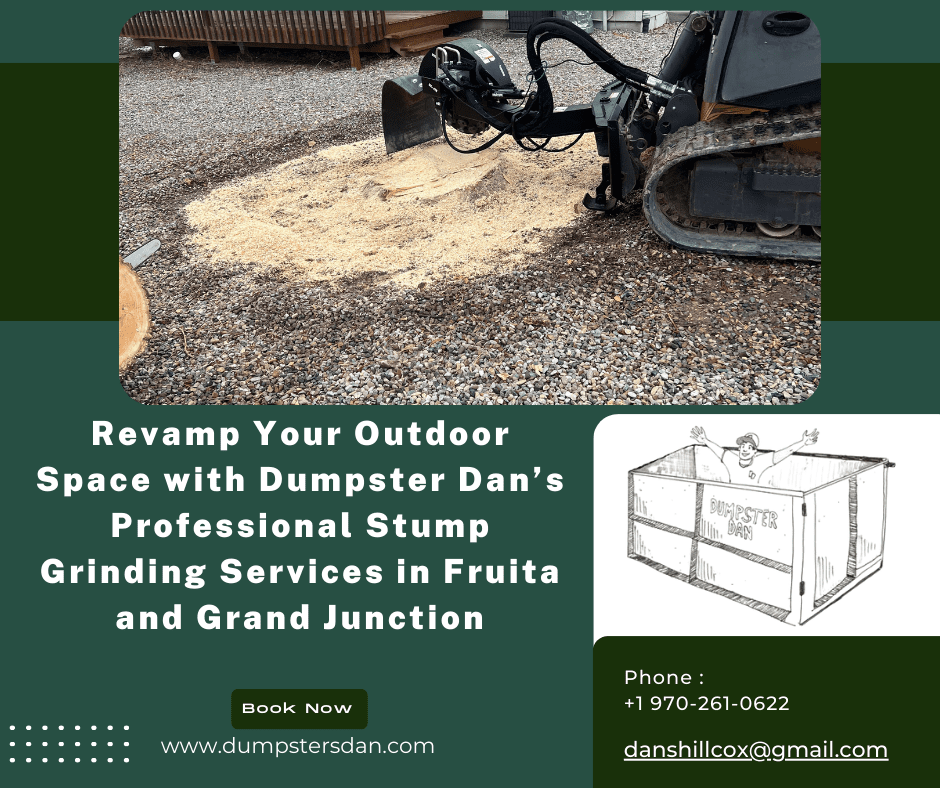 Why Choose Dumpster Dan Professional Stump Grinding Services
While some homeowners may consider attempting stump grinding independently, hiring professional services in Fruita and Grand Junction is strongly recommended. When it comes to professional tree stump grinding services, Dumpster Dan is a top choice.
Dumpster Dan employs a team of highly skilled professionals who are trained in the latest stump-grinding techniques. They have access to advanced equipment, ensuring efficient and thorough stump removal. Whether you have a small stump or a large one, Dumpster Dan can handle the job with precision and care.
Moreover, Dumpster Dan understands the importance of customer service. They strive to provide a seamless and hassle-free experience for their clients. From the initial assessment to the final cleanup, Dumpster Dan ensures professionalism, reliability, and open communication throughout the entire process.
Additional Services Offered by Dumpster Dan
In addition to tree stump removal, Dumpster Dan offers various other services. This includes Roll-Off Dumpster Rental, House Demolition & Yard Clean Up, Gravel Hauling, Car/Truck Removal, Concrete Demolition, and Firewood. With Dumpster Dan, you can trust that all your maintenance needs will be taken care of with utmost professionalism and expertise.
Revamping your outdoor space starts with removing tree stumps that are hindering its beauty and functionality. By hiring professional tree stump removal services, such as the ones offered by Dumpster Dan, you can ensure a safe, aesthetically pleasing, and pest-free yard. With their expertise and commitment to customer satisfaction, Dumpster Dan is the go-to choice for transforming your outdoor space into a haven of beauty and tranquility. Contact Dumpster Dan today and experience the difference they can make for your yard.